School Lane widening proposal
Standish Voice has joined with the three Standish village councillors to oppose Wigan Council's proposal to widen School Lane.
The scheme, which would cost £1.6m, has been put forward as part of a number of infrastructure projects which would use money given to the local authority by the developers who are involved in the huge housebuilding programme across Standish.
The council says the scheme, which would see an extra lane for traffic doing towards the crossroad lights from Green Lane down to Quakers Place, will speed up traffic going through the crossroads. But we think this will have a minimal effect and be hugely outweighed by negative impacts.
The council's own consultation on projects in Standish shows 61% of people are unhappy with the scheme (see image above, click to enlarge) – yet the local authority seems intent to plough on with it and impose it on our village.
We are against the road widening scheme, which is pictured in a council plan here, because it:
• Will increase the amount of traffic using Standish as a cut through to other areas, including Wigan and the M61
• Will bring more housebuilding development to Standish due to an increase in capacity at the crossroads
• Removes green areas and trees and has a hugely detrimental impact on residents living on the road
• Worsens emissions in the centre of Standish where the problem of exhaust pollution is over the legal limit and one of the worst in the borough
• Increases health and safety dangers to pedestrians, including children walking school
• Ruins the character of Standish at that entrance to the village
• Will only have minimal impact on congestion for a large amount of money (up to £1.6m), which could be better spent on other projects in Standish
• Reduces parking provision by taking away spaces
• Will hinder the progress of emergency vehicles when there are three lanes of standing traffic
• Perpetuates the image of Standish as a congested village centre, which damages trade and its reputation as a good place to live in
We will be building the campaign to persuade the council that the money which would be used for it should be used to improve the centre of Standish to make it a more pleasant place to shop and work in, including better pavements, street furniture and other enhancements to the Conservation Area.
You can read a press article about it, including a statement from Standish Voice, by clicking here.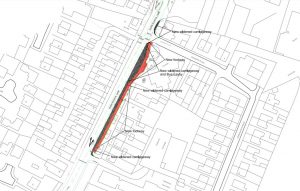 Standish Coronavirus Help
Standish Voice and Standish's councillors have come together to help our vulnerable elderly people affected by Coronavirus.
Some elderly people in Standish may not be able to rely on family, friends or neighbours to help while they are in self-isolation due to Coronavirus by doing shopping, delivering medicine or supporting them with conversations on social media, on the phone or by email.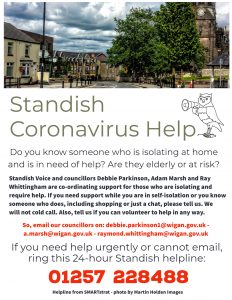 These elderly or at-risk people may also feel isolated and worried.
Other older people in self-isolation may have short-term problems due to helpers being ill themselves or having to self-isolate temporarily.
Standish Voice and Councillors Adam Marsh, Debbie Parkinson and Ray Whittingham have established Standish Coronavirus Help, which includes a network of support for these vulnerable elderly people and others at risk in our community; so that they have someone to turn to if they need help.
We have also bought essential items that they may need as a gesture of goodwill from the community with money raised by a crowdfunding appeal which brought in £2,630 in donations, plus £1,000 match funding from Wigan Council.
Please tell us of elderly people who may need help in this way. Please send their names and contact details of these people – or just tell us an address if you do not know them – to  a.marsh@wigan.gov.uk
This initiative is not designed to replace help that family, friends and neighbours can give, but to ensure isolated older people are not forgotten. We can also alert the authorities to people in need of specialised help.
We have also set up a 24-hour helpline with the help of SMARTstrat of Standish. The number is 01257 228488. Please use it if you need urgent volunteer help or cannot email Adam.
Can you volunteer to help us? We are co-ordinating help and support with volunteers either dropping off essential items, doing shopping for our elderly or contacting them on the phone or by email just for a chat and to offer support. If you can volunteer, either a little or a lot, email one of the addresses above and tell us what you can do.
You can click on the image above and print it out at home for neighbours you are concerned about.
We are in this together – thank you!
Welcome
Standish Voice is a group of local people who are working to ensure Standish is a great place in which to live and work.
We believe the house building being constructed across
Standish will create challenges but can also bring opportunities
for the village and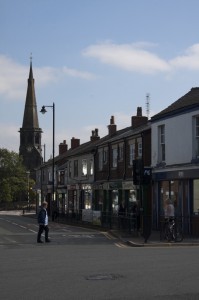 everyone who lives and works here.
Standish Voice has been designated as a Neighbourhood Forum, a statutory body which has given us the power to create a Neighbourhood Plan for the whole village and which has now been adopted.
We used the views of Standish people to shape the Neighbourhood Plan. The Neighbourhood Plan can influence how the village will look over the next generation.
After our own consultation, an EGM of Standish Voice members agreed to support the Final Draft Plan. Wigan Council carried out a round of statutory consultation and then a Planning Examiner reviewed the plan and asked for modifications before the Final Plan was completed.
The Final Plan was written and was put to a vote of people in Standish in a referendum on Thursday, July 18, 2019. The result was 94.5% voted Yes to adopt it in a 30.4% turnout.
You can read the plan here. You can read all its associated documentation by clicking on the link here or by accessing the Neighbourhood Plan pages on this site.
To use an interactive tool which can explain the highlights of the plan, click here
See more information about the Neighbourhood Plan in its own section on this website.
We also want to be a positive voice for Standish and help to bring the community closer together by organising and publicising local activities, events and campaigns.
Together we can make Standish a place to be proud of!
Standish Voice was designated as the Neighbourhood Forum for Standish in 2015. Designation lasts for five years. To read details of our submission to Wigan Council to be a Neighbourhood Forum and the Neighbourhood Area we cover, click here
The Forum and Area was re-designated for another five years, beginning in 2020 and ending on May 14, 2025. You can read the documents relating to this here
Please join us and speak up for Standish. To register your interest please click here to sign up to be a member of Standish Voice, which is free of charge, to receive regular updates – or keep in touch via Facebook and Twitter.
Council 106 funding consultation
Thank-you to everyone who took part in Wigan Council's consultation on the 106 contribution infrastructure schemes for Standish.
Standish Voice has submitted its response and you can read it by clicking here.
Support Standish
Standish Voice has joined with Nettl of Wigan design and marketing agency to create a new website that promotes our local businesses during Coronavirus.
It is an easy-to-use website that is totally free of charge for businesses and residents to advertising new opening hours, delivery options or services.
There is also an appeal to raise money for Standish charity My Life and an associated Facebook page, Support Standish, which aims to promote our local businesses.
You can see the website by clicking here.
Our Meetings
Standish Voice committee meetings are usually held monthly, typically on the third or sometimes the fourth Tuesday of the month at 7.45pm. However, due to the Coronavirus pandemic, all public meetings have been suspended as per Government advice.
We will review this suspension in the light of prevailing Government health policies and will reinstate public monthly meetings as soon as practicable.
Our AGM is held in January.
Latest news
STANDISH CHRISTMAS MARKET
Standish Christmas Market was held virtually on Saturday, December 5, 2020, due to the pandemic. Thanks to everyone who took part.
We are hoping that the usual Standish Christmas Market will return in December, 2021, and will be making arrangements for this. However, the nature of this will be dictated by the pandemic. We hope to update you throughout the year.
For photos of previous Markets, see our Standish Christmas Market page http://www.standishvoice.co.uk/christmas-market/ or follow Standish Christmas Market Facebook page.
REFERENDUM RESULT!
Standish Neighbourhood Plan was officially adopted after 94.5% of people voted for it in a referendum in July, 2019.
The turnout was 30.4% – thanks to everyone who voted.
STANDISH ON TV
BBC1's Sunday Politics visited Standish to talk to local people about the referendum and interviewed Standish Voice chair Gill Foster. To see the feature, click here
THE LINE CYCLEWAY CAMPAIGN
We are working with Wigan Council to improve the non-road transport network around Standish, including better footpaths and cycle paths.
We worked with Wigan Council to upgrade The Line, which has been turned from a muddy track into a modern, shared use route for walkers, cyclists and horse riders.
The former mineral line is now very popular and we are continuing to work with the council and others to landscape the route and improve other footpaths and bridleways in the village.
For full information on the project, click here
There are more policies to improve footpaths, bridleways, including the proposed Standish Loop in the draft Standish Neighbourhood Plan.