Welcome
Standish Voice is a group of local people who are working to ensure Standish is a great place in which to live and work.
We believe the house building planned for Standish over the coming years will create challenges, but can also bring opportunities for the village and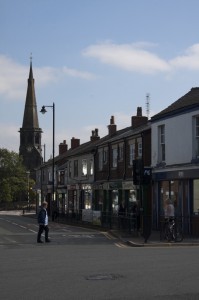 everyone who lives and works here.
Standish Voice has been designated as a Neighbourhood Forum, a statutory body which gives us the power to create a Neighbourhood Plan for the whole village.
If you live or work in Standish, we need your opinions to help us shape that draft plan – and which will influence how the village will look over the next generation.
We also want to be a positive voice for Standish and help bring the community closer together by organising and publicising local activities, events and campaigns. Together we can make Standish a place to be proud of!
For details of our submission to Wigan Council to be a Neighbourhood Forum and the Neighbourhood Area we cover, click here
Please join us and speak up for Standish. To register your interest please click here to sign up to be a member of Standish Voice, which is free of charge, to receive regular updates – or keep in touch via Facebook and Twitter.
We have adopted a Vision and Objectives for the Neighbourhood Plan, which came out of our consultation across the village, including our survey in summer 2015. We devised policies for the draft Standish Neighbourhood Plan with them in mind.
Standish Neighbourhood Plan Vision
By 2030, our village will be a thriving community with an attractive centre where housing meets local need and residents have easy, affordable access to excellent leisure, sports and cultural facilities and high-quality, ecologically sound, open space.
It will be a resilient, sustainable, healthy community where traffic congestion has been reduced by better transport initiatives and parking.
Standish Neighbourhood Plan Objectives
Objective 1  – To improve Standish's retail and hospitality offer by supporting existing businesses and attracting new ones – creating a vibrant, attractive, characterful village centre.
Objective 2  – To reduce traffic congestion by new transport initiatives and better parking.
Objective 3  – To enhance open and recreational space and access to it to improve biodiversity and residents' health and well-being.
Objective 4  – To promote sustainable, high-quality housing which meets the current and future needs of Standish residents.
Objective 5  – To maximise government and private developer funding from housing and other developments and seek other funding opportunities to benefit Standish.
Objective 6  – To promote health and well-being within a sustainable community.
Standish Draft Neighbourhood Plan
Here you can read the draft Standish Neighbourhood Plan.
The draft plan is a comprehensive document designed to influence the village's development until 2030. If it is adopted it will give our community a real say in changes across Standish.
This is the first non-business Neighbourhood Plan in the whole of Greater Manchester to reach this stage and Standish Voice would like to thank the community for its help in achieving this.
We have conducted a six-week consultation on the draft plan – called Regulation 14 consultation – and we received 210 responses. Standish Voice would like to thank all those who responded and we will be considering them all ahead of producing a Final Plan. This Final Plan will be put to a vote of members of Standish Voice. If passed it will go to Wigan Council on the next stage of the Neighbourhood Planning process.
Neighbourhood Plans have legal weight and must be taken into consideration when bodies such as Wigan Council make planning decisions.
We hope some of the proposals will also be used when the council decides how to spend developer and government funds which are due to Standish as part of the large number of homes due to be built across the village.
Standish Voice consulted widely about many aspects of life in the village and from this a Vision for the future and Objectives on how to achieve it were created. Comments from Standish people on them, as well as from further consultations, helped to shape the policies outlined in the draft Standish Neighbourhood Plan.
Highlights of the draft plan include policies to:
Influence the amount of new housing
Ensure any new housing meets the needs of Standish and its people
Make the village centre more attractive and vibrant
Control the number of hot food takeaways in the village centre
Create a new park in the village centre
Improve existing recreation areas, parkland and open space
Support more car parking in the village centre
Create and improve cycle paths and footpaths
Protect our historic pubs
Create new green/wildlife corridors
You can read our policy on The Rec, on Southlands Avenue, on another page on this website by clicking here.
Standish Voice has consulted on the draft policies and can alter them before Wigan Council does its own review and consultation on the final plan.
This plan will be studied by an examiner before it is put to a vote of the whole village in a Yes/No referendum to adopt it or not.
Read the draft Neighbourhood Plan here
On the website are also associated draft plan documents which have been published in conjunction with the draft plan. These are detailed below:
Maps: These relate to the policies in the draft plan. You can download these maps below:
Evidence Base: This is information which backs up and explains the background to the policies. It includes lots of information about Standish. Download the Evidence Base here.
Standish Housing Site Assessments: This is a list of sites looked at during the creation of the draft housing policies. Download this study here.
Externally Commissioned Reports: These reports – written by the consultancy Aecom – were commissioned by Standish Voice to help in the formulation of the draft Neighbourhood Plan policies.
Technical Facilitation – Housing Evidence And Policy was a study to find the reasons behind the high housing growth in Standish. Read the report here.
Housing Needs Assessment was a study into what housing is needed in Standish and if it is being delivered by house builders. Read the report here.
Standish Village Masterplan was a report that showed how Aecom believes Standish village centre could be improved. We have used some of the ideas within the Masterplan to create policies in the draft Neighbourhood Plan but have discounted others. The Masterplan is very much a starting point in how to make the centre of Standish better. Read the report here.
There are a number of policies in the plan which were explained to the public at drop-in sessions, via email and on social media, using Facebook – @standishvoice – and Twitter – @StandishVoice.
Standish Voice distributed 10,000 leaflets about the draft plan to every household in Standish and they were given out in schools and shops, businesses and community buildings.
You can read the leaflet here.
Our Meetings
Our Standish Voice committee meetings are usually held monthly, typically on the third Tuesday of the month at 7.45pm.
Members have a right to attend and members of the public are also invited to attend. Our next meeting will be on Tuesday, April 17, at 7.45pm at the Pavilion at Standish High School.
Latest News
CHRISTMAS MARKET
We held the second Standish Christmas Market on Saturday, December 2.
It was bigger, better and more festive than our 2016 event and we have had tremendous feedback on it.
Go to the Christmas Market page on this site to see more details and photos of the day.
PARKING AND THE LINE CYCLEWAY CAMPAIGNS
In January 2016, Standish Voice's campaign for more public car parking in the centre of Standish brought about an agreement with Wigan Council to put into action a 12-point plan to solve the problem.
Residents, shoppers, and local business owners know how inadequate parking is in the village centre and our petition here gathered 1,300 signatures.
For full information on our campaign, click here
We have also been working with Wigan Council on plans to improve the non-road transport network around Standish, including better footpaths and cyclepaths.
We and Wigan Council announced an upgrade to The Line, which will be turned from a muddy track into a modern, shared use route for walkers, cyclists and horse riders that will have an entrance into the village centre. Areas along The Line have been cleared and the work is hoped to be completed by the end of summer 2018.
For full information on this, click here