Welcome
Standish Voice is a group of local people who are working to ensure Standish is a great place in which to live and work.
We believe the house building being constructed across
Standish will create challenges but can also bring opportunities
for the village and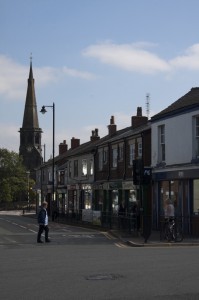 everyone who lives and works here.
Standish Voice is a non-profit organisation which has been designated as a Neighbourhood Forum, a statutory body which has given us the power to create a Neighbourhood Plan for the whole village and which has now been adopted.
We used the views of Standish people to shape the Neighbourhood Plan. The Neighbourhood Plan can influence how the village will look over the next generation.
After our own consultation, an EGM of Standish Voice members agreed to support the Final Draft Plan. Wigan Council carried out a round of statutory consultation and then a Planning Examiner reviewed the plan and asked for modifications before the Final Plan was completed.
The Final Plan was written and was put to a vote of people in Standish in a referendum on Thursday, July 18, 2019. The result was 94.5% voted Yes to adopt it in a 30.4% turnout.
You can read the plan here. You can read all its associated documentation by clicking on the link here or by accessing the Neighbourhood Plan pages on this site.
To use an interactive tool which can explain the highlights of the plan, click here
See more information about the Neighbourhood Plan in its own section on this website.
We also want to be a positive voice for Standish and help to bring the community closer together by organising and publicising local activities, events and campaigns.
Together we can make Standish a place to be proud of!
Standish Voice was designated as the Neighbourhood Forum for Standish in 2015. Designation lasts for five years. To read details of our submission to Wigan Council to be a Neighbourhood Forum and the Neighbourhood Area we cover, click here
The Forum and Area was re-designated for another five years, beginning in 2020 and ending on May 14, 2025. You can read the documents relating to this here
Please join us and speak up for Standish. To register your interest please email standishneighbourhoodforum@gmail.com to ask for membership of Standish Voice, which is free of charge, to receive regular updates – or keep in touch via Facebook and Twitter.
News: Kilhey Court Hotel
The Government has confirmed to Wigan MP Lisa Nandy that Kilhey Court will close its doors to asylum seekers.
Confirmation of the shutting of the building to asylum seekers came on Friday after a note was passed to the MP by Immigration minister Robert Jenrick, pictured below.
However, Wigan Council has not yet been given details of the closure, including when it will be – likely to be January or March – but hopefully that will arrive in the coming week.
This decision will be welcomed across Standish.
This historic building, which has been an asset to village life for two generations, was always totally unsuitable for this activity – especially as Standish already has one hotel which has been used by asylum seekers since 2015.
The Government's decision to not use Kilhey Court as a hostel, only two months after it closed as a hotel, shows how wrong-headed it was to do this in the first place.

We would like to thank everyone who has worked hard to put pressure on the Government, the Home Office, Serco and Macdonald Hotels, including councillors, Wigan Council, our MP, members of Standish Voice who sent emails and members of the public who signed petitions. Representations from the police and health authorities were also made at a high level and Standish Voice and Standish's councillors have had frequent meetings with Wigan Council on the matter.
We hope Macdonald hotels uses the money it has earned through this contract to refurbish Kilhey Court and restore it to its place as the best hotel in the Wigan area – and it can again be a venue that Standish can be proud of.
At Standish Voice's September meeting, our committee agreed to engage a planning consultancy to study all the planning applications given permission at Kilhey Court since is was converted from a private residential home to a hotel in 1983.
There are 16 planning applications, all with conditions, and an independent expert has been going through all these documents to ensure the hotel is complying with these regulations and the planning status of the premises.
Standish Voice has paid for this work from its own resources – we do not receive money from Wigan Council, just our own fundraising – and we will be sharing the findings with Wigan Council.
Standish Voice put in a Freedom of Information request to the Home Office asking for the updated criteria the Home Office has given to Serco, which has commissioned Kilhey Court, in terms of the requirements of property used for this purpose. This response was passed to Wigan Council at the start of this month to help the council in its efforts to argue that Kilhey Court is wholly unsuitable for this activity.
At Standish Voice's monthly public meeting in October, members of the public asked the three Standish councillors questions about the situation, including about policing.
We will be discussing the situaiton at our next public meeting at Albert's on Tuesday, November 21st at 7.45pm. All who live or work in Standish are welcome to attend.
You can read extracts of Wigan Council's letter to the Home Office objecting to the situation here: https://www.wigan.gov.uk/News/Articles/2023/August/Extracts-of-Councils-letter-to-the-Home-Office.aspx
Statement by our councillors. Standish councillors came together to issue a statement about the Kilhey Court situation which Standish Voice agreed to publish on its Facebook page. Click here to read it.
Standish Voice issued information about our organisation after untrue statements were made at a meeting in Standish. You can read this here.
At this meeting it was falsely claimed that a Neighbourhood Plan  – similar to the one in Standish – had been used to overturn the use of a hotel by asylum seekers in another part of the country. You can read about that here.
Standish Christmas Market
The 2023 Standish Christmas Market will be held on Saturday, December 2nd.
There will be more than 60 stalls selling a whole host of Christmas gifts, hot and cold food, live entertainment, a drinks marquee, festive attractions and more.
You can find out all the information you need for the day in our latest newsletter. Click here for it.
Our Meetings
Standish Voice committee meetings are usually held monthly, typically on the third or sometimes the fourth Tuesday of the month at 7.45pm, in a private room at Alberts restaurant, on School Lane.
All people who live or work in Standish are welcome to attend. We do not hold meetings in August and December.
We do not hold a meeting in December so our next will be our AGM in January.
Sometimes a Zoom meeting is called and, if this is the case, the information on this will be published here.
Latest News
SAVE STANDISH SPIRE APPEAL
Standish Voice is supporting St Wilfrid's Church in its campaign to raise funds for a renovation of its spire.
The spire, and broken clock, need £400,000-worth of repairs and while the church will provide the bulk of the cost, the community is being asked to help out to by donating to the appeal.