Standish Coronavirus Help
Standish Voice and Standish's councillors have come together to help our vulnerable elderly people affected by Coronavirus. We need your help!
The Government has said that, in the coming weeks, people over the age of 70 will be asked to stay at home to limit their risk of contracting Coronavirus.
The length of time they may have to stay in their homes could be up to four months.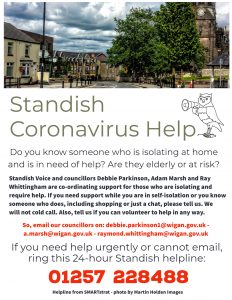 Some elderly people in Standish may not be able to rely on family, friends or neighbours to help in this situation, by doing shopping, delivering medicine or supporting them with conversations on social media, on the phone or by email. These elderly or at-risk people may feel isolated and worried.
Other older people in self-isolation may have short-term problems due to helpers being ill themselves or having to self-isolate temporarily.
Standish Voice and Councillors Debbie Parkinson, Adam Marsh and Ray Whittingham are creating a network of support for these vulnerable elderly people and others at risk in our community; so that they have someone to turn to if they need help.
We also want to buy essential items that they may need if stocks run short in shops and they are unable to find them elsewhere, or are unable to travel to buy them.
We will create packs of essentials that we can distribute to them.
How you can help:
1. We have set up a Crowdfunder account to pay for these essential items – please give a little money to this co-ordinated, voluntary initiative. To donate, click the link below or go to: https://www.crowdfunder.co.uk/standish-coronavirus-help…
2. Tell us of elderly people who may need help in this way. Please send their names and contact details of these people – or just tell us an address if you do not know them – to one of the three secure email addresses of our councillors:
debbie.parkinson1@wigan.gov.uk
a.marsh@wigan.gov.uk
raymond.whittingham@wigan.gov.uk
3. If you are an elderly person and are worried you may not be able to cope if you have to self-isolate at home, please email one of the addresses above. We will not cold call.
4. Can you volunteer to help us? We will be co-ordinating help and support with volunteers either dropping off essential items, doing shopping for our elderly or contacting them on the phone or by email just for a chat and to offer support. If you can volunteer, either a little or a lot, email one of the addresses above and tell us what you can do.
We will also be talking to community groups across Standish to see if they know of people who will need help in this way. No names or details of the elderly people we help will be shared publicly, so please do not add this type of detail in social media comments. Just email one of the addresses above.
This initiative is not designed to replace help that family, friends and neighbours can give, but to ensure isolated older people are not forgotten. We can also alert the authorities to people in need of specialised help.
We have also set up a 24-hour helpline with the help of SMARTstrat of Standish. The number is 01257 228488. Please use it if you need urgent volunteer help or cannot email one of the councillor email addresses in the leaflet.
You can click on the image above and print it out at home for neighbours you are concerned about.
We are in this together – thank you!
Welcome
Standish Voice is a group of local people who are working to ensure Standish is a great place in which to live and work.
We believe the house building being constructed across
Standish will create challenges but can also bring opportunities
for the village and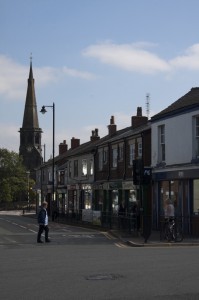 everyone who lives and works here.
Standish Voice has been designated as a Neighbourhood Forum, a statutory body which has given us the power to create a Neighbourhood Plan for the whole village and which has now been adopted.
We used the views of Standish people to shape the Neighbourhood Plan. The Neighbourhood Plan can influence how the village will look over the next generation.
After our own consultation, an EGM of Standish Voice members agreed to support the Final Draft Plan. Wigan Council carried out a round of statutory consultation and then a Planning Examiner reviewed the plan and asked for modifications before the Final Plan was completed.
The Final Plan was written and was put to a vote of people in Standish in a referendum on Thursday, July 18, 2019. The result was 94.5% voted Yes to adopt it in a 30.4% turnout.
You can read the plan here. You can read all its associated documentation by clicking on the link here or by accessing the Neighbourhood Plan pages on this site.
To use an interactive tool which can explain the highlights of the plan, click here
See more information about the Neighbourhood Plan in its own section on this website.
We also want to be a positive voice for Standish and help to bring the community closer together by organising and publicising local activities, events and campaigns.
Together we can make Standish a place to be proud of!
Standish Voice was designated as the Neighbourhood Forum for Standish in 2015. Designation lasts for five years. To read details of our submission to Wigan Council to be a Neighbourhood Forum and the Neighbourhood Area we cover, click here
We have submitted a request for the Forum and Area to be redesignated for another five years, beginning in 2020.
Please join us and speak up for Standish. To register your interest please click here to sign up to be a member of Standish Voice, which is free of charge, to receive regular updates – or keep in touch via Facebook and Twitter.
Our Meetings
Standish Voice committee meetings are usually held monthly, typically on the third or sometimes the fourth Tuesday of the month at 7.45pm. However, due to the Coronavirus outbreak, all public meetings have been suspended.
We will review this suspension in the light of prevailing Government health policies.
Latest news
STANDISH CHRISTMAS MARKET
Standish Christmas Market will be held on Saturday, December 5, 2020. Watch for updates!
For photos of previous Markets, see our Standish Christmas Market page for full details: http://www.standishvoice.co.uk/christmas-market/
REFERENDUM RESULT!
Standish Neighbourhood Plan was officially adopted after 94.5% of people voted for it in a referendum in July, 2019.
The turnout was 30.4% – thanks to everyone who voted.
STANDISH ON TV
BBC1's Sunday Politics visited Standish to talk to local people about the referendum and interviewed Standish Voice chair Gill Foster. To see the feature, click here
THE LINE CYCLEWAY CAMPAIGN
We have been working with Wigan Council to improve the non-road transport network around Standish, including better footpaths and cyclepaths.
We worked with Wigan Council to upgrade The Line, which has been turned from a muddy track into a modern, shared use route for walkers, cyclists and horse riders.
The former mineral line is now very popular, litter bins have been added, and we are continuing to work with Wigan Council and others to landscape the route and provide opportunities for Incredible Edible planting of fruit trees and soft fruit bushes.
For full information on the project, click here
There are more policies to improve footpaths, bridleways, including the proposed Standish Loop in the draft Standish Neighbourhood Plan.